Biography
Jon Madin is a trained classroom music teacher with a background in a wide variety of music-making. His experience includes playing in folk/rock bands, multi cultural bands, an orchestra and early music consorts. He also leads family music workshops and bush dances.
He has also worked extensively in musical instrument design - marimbas in particular, as well as many other experimental musical instruments.
Jon has worked with marimbas in all states of Australia as well as in Japan, Indonesia, Austria, U.S.A., Germany, New Zealand, Hong Kong and East Timor.
Recent work includes writing an extended piece for community musicians playing marimbas, percussion and found objects together with an orchestra. The project was organised by the Arts Concert of Wangaratta, Victoria.
Jon also worked on a music installation and performance that was set in the Bundaleer forest in South Australia.
A typical international visit includes making a number of marimbas for the school or organisation in the lead up to a conference. The marimbas remain with the school. Jon also teaches playing styles on the marimbas and associated instruments. In workshops he demonstrates the making of a variety of other 'wacky instruments'.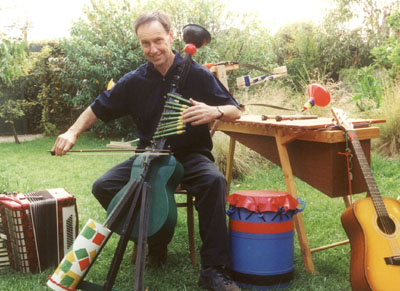 Jon playing an experimental echocello.