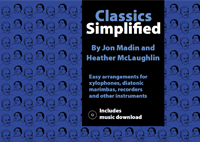 Instrument Making Books
'
Make Your Own Marimbas'

This is a book of simple illustrated instructions for making Marimbas.
'Make Your Own Wacky Instruments' This is a collection of ideas for constructing a range of instruments out of cardboard tubes, plastic pipes and bits of wood etc.
Marimbas
Our marimbas are inspired by African xylophones but redesigned for three standing players. The simple design means that you can make them yourself.
Sales
Marimba Music sells six books. The four music books come with CDs. Within Australia we sell marimbas and sets of tone bars, beaters etc.
We publish four music books for ensembles of diatonic marimbas, xylophones and other instruments. Most pieces cater for a range of abilities. 'Marimba Music for Little Kids' contains mostly songs with only a few notes to play.